Buy 4 + Get 3 Free: Capsule Bottles, NOW 750mg PER BOTTLE!
Buy 4 + Get 3 Free: Capsule Bottles, NOW 750mg PER BOTTLE!
Made from pure Colorado-grown hemp plants.  Quality and integrity are our top priorities. 
Now featuring 750mg of CBD in every bottle at the same great price!
Our facility is US Hemp Authority certified!
We use the whole plant approach to CBD extraction.  Our clients get better results this way and there's evidence that the additional terpenes and flavonoids in full spectrum CBD help it be more effective.
All-Natural and Completely Safe:

 

Believe it or not many companies put fillers, preservatives and emulsifiers in their CBD.  We believe that CBD does just fine on its own.  
Tested for Heavy Metals and Impurities:

 

Hemp plants can act like a sponge on the soil around them so we ensure quality by testing our oils for heavy metals, bacteria, VOC's, and 17 other substances.   You can see our testing results

 

right here. 

Also, 

all of our hemp is Colorado, clean-grown hemp.

Completely Free of THC, GMOs, Pesticides, Herbicides, Corn, Soy, Nuts and Gluten!

Works Quickly:

 

our extraction technology is designed so that it absorbs quickly, as fast as 15 minutes after you take it!
Full Spectrum:

 

Recent studies have shown that isolated CBD isn't as effective as full spectrum hemp, so we utilize the full spectrum of the hemp flower to ensure maximum benefits for you!
Ingredients:

 25mg of Hemp-Derived Cannabidiol (CBD), rice flour, vegetable cellulose, magnesium stearate, silicon dioxide.
Prosper Wellness was founded by Kriss Berg and Chaz Shively, both Colorado natives.  Colorado is at the forefront of cannabis research and we put all our efforts into making sure you have a high quality, affordable CBD supplement.  
Join the CBD revolution and try Prosper CBD Today!
See our test results here!
Reviews
Customer Reviews
Write a Review
Ask a Question
09/07/2021
I recommend this product
Excellent Product!
This is an excellent product...my shoulder has completely stopped hurting since I began taking the 25mg capsules. I highly recommend Prosper Wellness CBD!
Gail C.

United States
08/14/2021
I recommend this product
Great product
Very positive. At first I didn't think it was helping, but then I noticed my back pain had subsided. I'm sleeping better too.
Phyllis S.

United States
08/10/2021
REVIEW OF RECENT PURCHASE
FOLLOWED ALL YOUR INSTRUCTIONS.FOR VAROIUS USES. DOES NOT HELP WITH SLEEPING PROBLEM. WHEN TAKEN WITH BREAKFAST, HAVE NOT NOTICED ANY MENTAL IMPROVEMENT DURING THE REMAIDER OF THE DAY. IS THERE A PERIOD OF TIME BEFORE MY SYSTEM GETS ACCLIMATED TO THE CBD PRESENCE? DO YOU HAVE ANY ADVICE ?
Robert L.

United States
08/08/2021
They Work Even Better
With the higher dosage I have to take less to get the same results. Actually, I think the results are BETTER. I was taking three of the 10mg capsule and now I only have to take one of the 25mg capsule. This works well for me with pain caused by over exertion or just pain in general... like my birth defect. Since it's an isolate I've read that it won't cause you to fail a urine test, which might be of interest to some people. I highly recommend this product.
Carole G.

United States
07/30/2021
Valjeanne M.

United States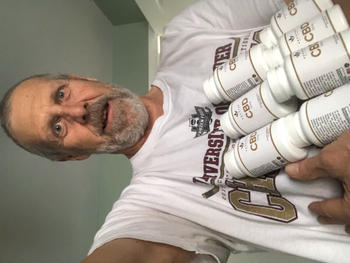 07/30/2021
Works for me
I have been using this product for over a year now and it's been so beneficial. Helps with better sleep, calming and has helped alleviate some of arthritis pain. Good stuff!
Bob L.

United States
07/25/2021
CBD White capsules
Thank you for a clean, strong and very effective pain remover and nighttime relaxer pill.
Wendell T.

United States
07/24/2021
Excellent product
Works well for me!
Nancy H.

United States
07/14/2021
Still working
I've been taking the CBD capsules for a few years and they continue to keep swelling down in my hands so I can wear rings I've had forever. Works for me!!
Deborah G.

United States
06/29/2021
25mg capsules
Received bottles of 25mg capsules. I like these better than 10mg.
Dewey K.

United States
06/23/2021
Cbd
Thank God for the CBd. I do not have to get shots in my anymore. Thank you. I have now ordered the gummies to add to program. I am looking forward to getting them.
Joanne C.

United States
06/17/2021
Works Fine
I Have been using this product for a month now. I started with 5 capsules each day; three at night before bed time and two in the morning. I'm now using one in the evening and one in the mooring plus one in the afternoon. I plan on reducing my intake to two capsules each day.
William L.

United States
06/14/2021
Great CBD Capsule Product
this product has been a godsend! I have had many many surgeries on my hands, fingers and wrists and feel pain quite often from scar tissue, weather changes and damaged nerves. this product makes me feel like myself again, without painful limitations!
Jane W.

United States
06/03/2021
Wouldn't be without!
Great product that works at a reasonable price. My well-being is very much improved since using the CBD capsules.
Patricia S.

United States
05/28/2021
CBD Capsules
I have ordered this product several times for relief from the pain, numbness and discomfort of neuropathy in my feet and fingertips as a result of chemotherapy. Although the "discomfort " is diminished somewhat, it will never be completely gone. I have found if I do not use CBD for a period of time the symptoms come raging back. There are times I think CBD might not be working until I don't take it. My realization in taking this "test" was certainly the personal proof I needed. If a stronger product is added to your inventory, I would be happy to try it. In closing I want you to know I will be a repeat customer always. Thank you! Donna Z
Donna Z.

United States
04/24/2021
Helps with pain.
It helps with the pain. Thank God for your product. I do gentle exercises also for pain. I tried the face moisturizer but that did nothing for my wrinkles or appearance.
Joanne C.

United States
04/15/2021
Love it!
This CBD has reduced my back pain from a fall so I don't have to rely on so many pain medications. It also helps me feel more relaxed and I have been sleeping better too.
Janice L.

United States
04/07/2021
Please don't ask me to review anything. I've done all that in younger years and I don't want to expend any more brain eating viruses that is not necessary. Let the other people judge your product. I haven't been taking it long enough to make any kind of opinion. Leave me alone please.
Jerry M.

United States
04/01/2021
I expected Turmeric CBD and got reGULAR cbd
Daniel G.

United States
03/23/2021
feeling the difference!
I was very hesitant at first - really tuning into my being and seeing how this CBD faired compared to other things I have tried - know what - I SLEPT THRU THE NITE! I was extremely pleased and have noticed a big difference in the quality of sleep I have when taking only 2 capsules! There are so many benefits, and I'm convinced this is just one of the big ones!!
Cindy S.

United States
What People Are Saying About Us
I want to tell you how much I like your CBD. I feel so much better! I can finally exercise again after my surgery. Wish I had known about this months ago! Don't change a thing!
- Marilyn Martin Uses It Everyday...
I've only been on it for a month and can't believe how good I feel. My mind is more focused, my body feels better. Sleep has been better than it has in years. Can't wait to see how it does for the next month. Thanks Prosper.
- Greg Thomason Is A Believer!
I can't believe how much better I feel since I started taking Prosper CBD. My knees, my shoulder and my elbow have [felt better] since I have been talking the Prosper. I'm 77 and I feel better than I have in years.
- Margaret Edelson Hasn't Felt This Good In Years
I want to tell you how much I like your CBD. I feel so much better! I can finally exercise again after my surgery. Wish I had known about this months ago! Don't change a thing!
- Marilyn Martin Uses It Everyday...