CBD Tincture Isolate - THC Free and Highly Effective - Now 750mg Per Bottle!
CBD Tincture Isolate - THC Free and Highly Effective - Now 750mg Per Bottle!
Made from pure Colorado-grown hemp plants.  Quality and integrity are our top priorities. 
750mg of CBD in every bottle. 
Our facility is US Hemp Authority certified!
We use the whole plant approach to CBD extraction.  
All-Natural and Completely Safe: Believe it or not many companies put fillers, preservatives and emulsifiers in their CBD oil.  We believe that full spectrum CBD oil does just fine on its own.  We just add a tiny bit of peppermint oil to make it more palatable.  That's it, that's all that's in your new CBD oil, CBD and peppermint.

Tested for Heavy Metals and Impurities: Hemp plants can act like a sponge on the soil around them so we ensure quality by testing our oils for heavy metals, bacteria, VOC's, and 17 other substances.   You can see our testing results right here. 

Also, 

all of our hemp is Colorado, clean-grown hemp.

Completely Free of THC, GMOs, Pesticides, Herbicides, Corn, Soy, Nuts and Gluten!
Works Quickly:

 

our extraction technology is designed so that it absorbs quickly, as fast as 15 minutes after you take it!
Ingredients:

 

Phytocannabinoid Hemp Oil extract, Natural Peppermint flavor.
Prosper Wellness was founded by Kriss Berg and Chaz Shively, both Colorado natives.  Colorado is at the forefront of cannabis research and we put all our efforts into making sure you have a high quality, affordable CBD supplement.  
Join the CBD revolution and try Prosper CBD Today!
See our test results here!
Reviews
Customer Reviews
Write a Review
Ask a Question
09/05/2021
I recommend this product
CBD
Not working that well for me.
Evelyn B.

United States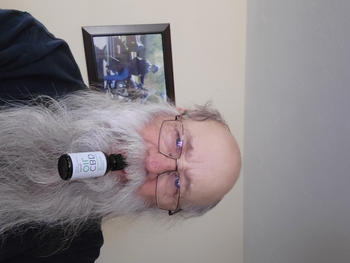 05/26/2021
I recommend this product
Prosper CBD Tincture Oil
Fantastic product and price. Stress reduction? YES Lower Blood Sugar? YES Pain reduction? YES
Duncan S.

United States
03/22/2021
I recommend this product
CBD Oil Peppermint flavor
The first bottle was great had a mild peppermint flavor, helps me sleep. The second bottle has no flavor, I was wondering if it is the same stuff?
Karin H.

United States
10/26/2020
I recommend this product
Drug free pain relief
The freeze cured my torn Achilles after 2 years of pain and keeps my knee pain free Have lots of arthritis at 78 after being a nurse for 56 years and now have pain control without NSAID.
Phyllis M.

United States
06/22/2020
I recommend this product
Better Sleep
I have found that the CBD tincture is really helping with my sleep. I fall asleep more easily and stay asleep all night. I love that I don't have to take other less natural products to ensure a good night sleep. I highly recommend this product. Customer service is also fantastic!! (great sense of humor)
Elizabeth M.

United States
04/13/2020
I recommend this product
CBD Peppermint Tincture
Helps to remain calm and focused. This is a pure product without all the other ingredients other cbd oils have included. Love the taste.
D C.

United States
04/03/2020
I recommend this product
GREAT Product
Between the loading dose & it being a superior product, I can definitely say IT WORKS!!! Have tried other CBD products & this is the only one I've found that doesn't taste foul, wipes out anxiety, and gives me the best nights sleep I've had in years. No more "thoughts spinning" if I do wake up in the middle of the night. Thank you!!!
Katherine K.

United States
03/21/2020
I recommend this product
CBD Oil
I have been using a local company as my source but was interested in trying a new product. I am looking at the pic of the CBD oil you show in this email and it has a peppermint flavor. I am scratching my head wonderihng why I wasn't offered a flavor when I purchased your product... Anyway. I bought your product to take on a cruise when my other product ran out. I just started using it. I prefer a bit of tincture higher than normal. I need this to help with inflammation and leg/toe/foot cramps. I cannot tell if this is working up to par as I just started less than a week. I am gettng cramps but not like when CBD oil was not available. I think your pricing is very good and I appreciate that very much too.
Candy C.

United States
Thanks Candy, we appreciate your business!
02/18/2020
I recommend this product
Highly Recommend!
Everything was just wonderful! Shipping was fast; a question was answered cheerfully and promptly. Excellent people to work with. I like the product a lot. I've taken various brands of CBD for 3-4 years so with this product I am still maintaining my feelings of well-being. My only suggestion is that the peppermint is not very strong tasting. This is still good for me as I like the raw version of CBD, but sometimes I crave a stronger, flavor of the peppermint. Price is always a deciding factor for me and this product is a very comfortable price point for me.
Margo C.

United States
09/11/2019
Love it, mine leaked
Great product. The one time I called customer service the call was answered to my satisfaction. The only reason I did not give 5 is that the glass bottles leaks. Need to call .about this issue.
09/11/2019
Amazing!!!
I love this product. No more acid reflux. No more back or chest pain. No more anxiety. Now I can actually sleep.
09/05/2019
CAME BACK
I tried this product months ago, and loved it, overall felt better, physically, mentally. Thought I"d shop around to find something more affordable.......tried several from different companies, came back to Prosper......superior product! thankyou
03/07/2019
loving cbd!
i was very skeptical but this stuff changed my mind. even tried other cbds and this one did the trick. my hands feel so much better from arthritis and i feel more calm when i drive which was very stressful for me before. i will be a customer for a long time.
03/04/2019
Good
I am so happy to start doing cbd oil and I have noticed a few things like my pain in, my lower back has decreased somewhat and my bowel system had been a lot better than it had been. I have only been taking the oil for a few weeks so I am looking forward to the changes in the future, thank you
02/07/2019
Helps me sleep
This product helps me sleep! I have tried many cbd oils, but Prosper Wellness CBD is the best!
02/07/2019
Second order, just thrilled
Today I placed my second order for your CBD oil tincture after using it for about the last 90 days. I have kidney disease, and my Nephrologist has been urging me to go on dialysis. I will not do that or many reasons, but I wanted to tell you about some apparently good news that may have come about after using your product. With no other change in my medications, except taking your CBD oil daily, my blood test results show an improvement in kidney function. This is not conclusive proof of the value of your product, but if I continue to see improving blood tests with continued use of your CBD oil, that will be enough proof for me, and I will discuss these results with my doctor. Thanks for making good products, and I enjoy doing business with you.
01/31/2019
Great
Took it for last two weeks, and am very impressed. Taking about 20mg per day and it's really helped with my nervousness in the morning and sleep at night. Also notice my ankle doesn't hurt when the weather changes. Going to recommend this to my friends for sure.
What People Are Saying About Us
I want to tell you how much I like your CBD. I feel so much better! I can finally exercise again after my surgery. Wish I had known about this months ago! Don't change a thing!
- Marilyn Martin Uses It Everyday...
I've only been on it for a month and can't believe how good I feel. My mind is more focused, my body feels better. Sleep has been better than it has in years. Can't wait to see how it does for the next month. Thanks Prosper.
- Greg Thomason Is A Believer!
I can't believe how much better I feel since I started taking Prosper CBD. My knees, my shoulder and my elbow have [felt better] since I have been talking the Prosper. I'm 77 and I feel better than I have in years.
- Margaret Edelson Hasn't Felt This Good In Years
I want to tell you how much I like your CBD. I feel so much better! I can finally exercise again after my surgery. Wish I had known about this months ago! Don't change a thing!
- Marilyn Martin Uses It Everyday...