TurmeriCBD, CBD & Turmeric Formula Buy 4, Get 3 Free
TurmeriCBD, CBD & Turmeric Formula Buy 4, Get 3 Free
Our facility is certified by the US Hemp Authority!
Two Of The Most Powerful Natural Supplements
Ever Discovered In One Powerful, Inflammation Soothing Formula


Include The Highest Quality Ingredients
Includes Everything You Need, Nothing You Don't
Prosper TurmeriCBD is manufactured with 100% All Natural ingredients. Our formula is free of GMOs, gluten, dairy and soy. All Prosper CBD products contain no hormones, preservatives nor antibiotics. No hormones, no preservatives, no artificial ingredients, no antibiotics, no dairy, no sugar, no yeast. Our natural Turmeric supplement is also free of sugar, yeast, starch and cholesterol.
Our CBD Is Full Spectrum and US-Grown
Full spectrum has been shown to be more effective thanks to 'the entourage effect'. This means that the entire plant, which is used creating full spectrum oil, has flavinoids and terpenes that help make CBD more effective. This means you'll feel CBD faster and for longer. Also, we use Colorado-based hemp growers for all our products and insist on no pesticides, herbicides, or chemicals used in growing and harvesting the hemp in your new supplement.
We Only Use High-Quality Turmeric 
Curcumin, the most potent compound in turmeric, aids in our natural health functions throughout the body. Prosper turmeric curcumin supplement also contributes to your overall wellness by promoting brain function, heart health and immune support.
Plus We Include BioPerine For Maximum Absorption
Curcumin is not easily absorbed in our body, so we at Prosper CBD included BioPerine in this formula. BioPerine is a patented form of Black Pepper Extract, which has been shown to enhance the absorption of nutrients. The 10mg of BioPerine in our formula ensure that you get all the benefits Turmeric Curcumin has to offer.
Proudly Made In The USA
These all-natural, GMO-free turmeric curcumin capsules are manufactured in the USA in a FDA inspected facility and are third-party certified for purity and potency. We routinely do quality and safety checks to make sure that you have the highest quality product that money can buy.
Ingredients
Ingredients: Turmeric Root Extract (200mg), Full-Spectrum Hemp Oil (10mg), Bioperine Black Pepper Extract (5mg), Medium chain triglycerides oil, Silicon Dioxide, Vitamin E (as Mixed D Alpha Tocopherol Acetate) and Vegetable cellulose.
See our test results
here
.
NOTE: this product contains full-spectrum CBD which contains less than 0.3% THC.  While this amount is very low, this amount could be detected in a drug test.  
Reviews
Customer Reviews
Write a Review
Ask a Question
09/24/2021
I recommend this product
Tumeric CBD
I've been using this incredible natural medicine GOD given for at least 2 years... I have a prosthetic lower right leg and bc of the great natural ingredients in this medicine I have had some incidences that this wonderful product has removed the pain and has been a great answer to daily pain that can and does occur at my age of 81 years. Thank you Prosper Wellness for this great product. Wendell Tillinger
09/15/2021
I recommend this product
Satisfied
Helps me sleep, and relieve my arthritic pain in my hands. Glad it is American made. Norm
Norm P.

United States
09/13/2021
I recommend this product
Helps me relax and sleep
I have been using this product for about a year and I love how it helps me sleep. I stopped using it for a few weeks and definitely noticed a difference. Glad to have it back in my daily routine.
Kristine L.

United States
08/26/2021
I recommend this product
good stuff !!!!!
Great love it !!!!!
Donald H.

United States
08/24/2021
I recommend this product
Don't let yourself run out like I did...
...I lost track and thought I had one more bottle left, but I didn't! I'd been on a maintenance dose for quite a while, but by the time I ordered and it got delivered I had been out for over a week and had to start over with loading doses. After about the 3rd day of being out I could really tell It had gotten out of my system and I was feeling every little ache & pain that had been gone since I started regularly taking prosper CBD & tumeric. Don't forget to join the Buyer's Club to get the best price -it is more than worth it, and the only way I can afford it on my fixed income.
M. Adams

United States
08/21/2021
I recommend this product
Tumeric CBD
I feel it is great. It helps a lot. Thanks
Linda K.

United States
08/13/2021
I recommend this product
Use Review
I am using the CBD products instead of my RA meds and these seem to work without the 6- or 8- week waiting period. I also bought the CBD Freeze Cream just to try it. I will buy more of it.
Teri G.

United States
08/05/2021
I recommend this product
Love it!!
It had been good and I have tried others. One thing, while there is a disclaimer regarding a positive drug screen, I failed to remember that and it happened to me so I just wanted to be sure if you're on it as maintenance as I am, list it on your forms if you are potentially up for a screen.
Jocelyn K.

United States
07/28/2021
I recommend this product
Thanks
Easy to order Efficient delivery
George B.

United States
07/26/2021
I recommend this product
At last, something that showed results!
I typed in a long review, but it disappeared! So to make a long "story" short, my son has dealt (suffered) with severe anxiety and panic disorder. I had prayed 25 years for God to send an answer for relief. He has tried everything I had seen on the market to no avail. Until now - the TurmeriCBD works. He has cut his meds in half, and he's able to leave the house without worrying "what if..." I have seen the dramatic results (for the better!), and he says he finally back in the "land of the living." Also, about three months ago I twisted my knee and was afraid I had a meniscus injury - thinkin I was probably going to have to have surgery. So I decided to give this a try, and now I'm walking with no pain and no "popping." It's been an amazing difference. I am a believer in the TumeriCBD and recommend it highly. E. Blurton
Evelyn B.

United States
07/25/2021
I recommend this product
Long-term user
This capsule continued to provide the turmeric I was already taken via food-grade off-the-shelf products, but the added high-grade CBD gave me what I needed to greatly lessen my back pain issues. I foresee continuing the use of this product for the rest of my life. Thanks for your continued, superior and conscientious work. P.S. My dogs also use the CBD oil to decrease the affects of their arthritis. It's quality, effectiveness and price is better than those of most of the "for dogs" products and my vet approved the use. One just needs to determine the amount to use based on the pet's weight.
Janice W.

United States
07/22/2021
I recommend this product
Order
My husband uses it a d it helps with sleep and hopi g to have success on helping with all his memory
Pamela J.

United States
07/15/2021
I recommend this product
Fantastic Product
Helps a lot with my joint pain and there are zero side effects.
Thomas S.

United States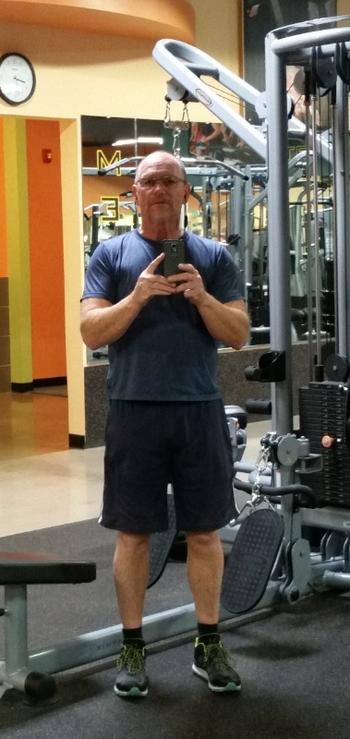 07/12/2021
The Good Stuff
Relives the aches and pains that come with working out as I get older...I'm almost 70. I use it twice a day...
Dale S.

United States
07/03/2021
CBD and turmeric
Works as a advertised
Mary F.

United States
06/28/2021
TURMERICBD
This gets rid of our aches and pains with one pill in the morning! Will keep on buying,
Peter W.

United States
06/18/2021
arthritis in shoulder
the cbd has lessened the arthritis in the shoulder, take 2 every day
Mark F.

United States
06/18/2021
Great Product
I can't go a day without this product. It helps with my anxiety and relieves my joint pain. It's also very easy on my stomach.
Brenda W.

United States
06/16/2021
Taking CBD with tumeric
Don't know yet….. we have been sick here. Still taking them and hoping for better days.
Roger A.

United States
What People Are Saying About Us
I want to tell you how much I like your CBD. I feel so much better! I can finally exercise again after my surgery. Wish I had known about this months ago! Don't change a thing!
- Marilyn Martin Uses It Everyday...
I've only been on it for a month and can't believe how good I feel. My mind is more focused, my body feels better. Sleep has been better than it has in years. Can't wait to see how it does for the next month. Thanks Prosper.
- Greg Thomason Is A Believer!
I can't believe how much better I feel since I started taking Prosper CBD. My knees, my shoulder and my elbow have [felt better] since I have been talking the Prosper. I'm 77 and I feel better than I have in years.
- Margaret Edelson Hasn't Felt This Good In Years
I want to tell you how much I like your CBD. I feel so much better! I can finally exercise again after my surgery. Wish I had known about this months ago! Don't change a thing!
- Marilyn Martin Uses It Everyday...